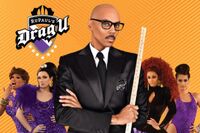 RuPaul's Drag U
was a spinoff series that began airing in Summer 2010, after
Season 2
of the main series ended. There have been three seasons of
Drag U
, airing the summers following
Drag Race
seasons 2, 3 and 4. RuPaul confirmed on May 8, 2013 that the series had been canceled and there would be no further episodes.
[1]
In each episode of RuPaul's Drag U three women are given drag makeovers and taught to access their "inner divas". Each of the women is judged and evaluated on her "Drag Point Average" (DPA):
Drag transformation
Performance
Attitude adjustment
The contestant with the highest DPA wins a cash prize.
Drag U Judges
RuPaul is the "President" of Drag U. Unlike in RuPaul's Drag Race, he does not appear in drag. Regular judges in the first season of Drag U were Lady Bunny as "Dean of Drag", and Frank Gatson, Jr. as "Dean of Dance".
For season two, Lady Bunny returned returned, and various choreographers rotated throughout the season as "Deans of Dance". Each episode features one celebrity guest judge.
Contestants
Contestants from RuPaul's Drag Race appeared on RuPaul's Drag U as drag professors who help the contestants. The professors featured on Drag U have been:
Professors
Season
Appearances
RuPaul's Drag Race Season
Win
1
2
3
Raven
12
Season 2, All-Stars
4 times
Jujubee
11
Season 2, All-Stars
2 times
Shannel
9
Season 1, All-Stars
4 times
Pandora Boxx
7
Season 2, All-Stars
3 times
Morgan McMichaels
5
Season 2
2 times
Ongina
5
Season 1
1 time
Tammie Brown
1
Season 1, All-Stars
1 time
Nina Flowers
1
Season 1, All-Stars
-
Manila Luzon
4
Season 3, All-Stars
2 times
Mariah
4
Season 3
2 times
Bebe Zahara Benet
2
Season 1
-
Carmen Carrera
2
Season 3
-
Tyra Sanchez
1
Season 2
-
Latrice Royale
3
Season 4, All-Stars
1 time
Chad Michaels
2
Season 4, All-Stars
1 time
Raja
2
Season 3
1 time
Alexis Mateo
1
Season 3, All-Stars
1 time
Delta Work
1
Season 3
1 time
Sharon Needles
1
Season 4
-
Willam
1
Season 4
-
Ad blocker interference detected!
Wikia is a free-to-use site that makes money from advertising. We have a modified experience for viewers using ad blockers

Wikia is not accessible if you've made further modifications. Remove the custom ad blocker rule(s) and the page will load as expected.