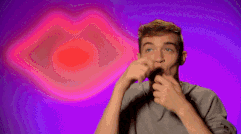 Pearl Liaison, or simply known as Pearl, is the stage name of Matt James, a drag performer from Brooklyn, NY. He is a contestant on Season 7 of RuPaul's Drag Race.
Despite being somewhat popular among the viewers, Pearl is often looked at as one of the weakest queens to ever reach the top three, alongside Rebecca Glasscock.
RuPaul's Drag Race
| | |
| --- | --- |
| Season Competed | Season 7 |
| Ranking: | 2nd/3rd Runner-up |
| Mini-Challenges Won: | 0 |
| Times as Team Captain: | 0 |
| Main Challenges Won: | 2 |
| Times in Bottom Two: | 2 |
| Episode Eliminated: | N/A |
Entrance
"Sup."
About Pearl
Matt was born on September 11, 1990.
Pearl was heavily criticized by RuPaul and the judges for not being enthusiastic enough during the first four episodes of the show and was even said to be 'sleeping' through the competition. After a lipsync against her friend Trixie Mattel, Pearl began to take the competition much more seriously and secured herself a placement in the top three, along with Ginger Minj, and Violet Chachki.
She initiated her musical career as a DJ in 2015, releasing her first electronic music album Pleasure.
Trivia
Pearl and Season 8 queen Kim Chi first started doing drag together on Halloween.
Pearl was known as one of the hottest guys of the season both in and out of drag.
Pearl started doing drag as a hobby, then later decided to commit to it full time for gigs.
Pearl's unisex perfume "Flazéda" came out on June 2, 2015. This makes Pearl the first queen in Rupaul's Drag Race herstory to release a fragrance.
Pearl and Ginger Minj have the same birthday.
Pearl's zodiac sign is Virgo
Pearl is a part of the Earth signs since she is a Virgo (Capricorn, Taurus, Virgo).
While Season 7 was airing, the fandom started "shipping" certain queens together in a relationship. Out of all the ships of Season 7, Pearlet (Pearl and fellow Season 7 contestant and Season 7 winner Violet Chachki) was the most popular of them all.
Pearlet started when Pearl posted a picture on Instagram of a drawing that she made over 10 years ago.
Quotes
'sup.
Bitch I'm from New York, and you can wear fur in spring. 'K?
Worst day of my life. Someone bring me a puppy. I want to die.
Gay people judging me... BIG surprise.
Is there something on my face?
Fuck you, Pete!
I think I have a great personality, actually.
You kinda just told me I had no personality, that doesn't really make me feel good or give me confidence.
I've never even heard of Macbeth. Call me young, call me illiterate, whatever.
Very flazéda.
Ugh...
These girls need more material, I woke up a long time ago god dammit.
Katya, are you confused? The saying is YOUNG, dumb and full of %&#%.
Rupaul! (during the Reading is Fundamental challenge)
Ad blocker interference detected!
Wikia is a free-to-use site that makes money from advertising. We have a modified experience for viewers using ad blockers

Wikia is not accessible if you've made further modifications. Remove the custom ad blocker rule(s) and the page will load as expected.