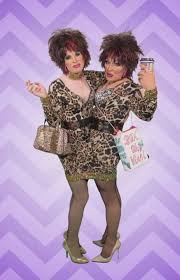 Yekaterina Petrovna Zamolodchikova, or Katya Zamolodchikova (Екатерина Петровна Замолодчикова), or simply Katya, is the stage name of Brian McCook. She was a contestant on the seventh season and All Stars 2 of RuPaul's Drag Race, where she was simply known as "Katya". She finished fifth in her initial run, eliminated on the episode: Episode 11, "Hello, Kitty Girls!", but was later voted "Miss Congeniality" by fans in the reunited special. She returned for All Stars 2, where she and Detox ended up as runner-ups to winner Alaska.
She is best remembered for her humor and personality. Since the filming of Rupaul's Drag Race Season 7, Katya has been very open about her relationship with fellow contestant Trixie Mattel (otherwise known as Brian Firkus). Alongside Trixie Mattel, she hosts the YouTube show "UNHhhh" on WOWPresents.
Entrance
Season 7
"Давай cезон семь! (C'mon season seven!)"
All Stars 2
Голодные игры! суки
"(Happy Hungry Games, Bitches)" (sic)
Name Origin
Katya's "full name" is Yekaterina Petrovna Zamolodchikova. Katya has confirmed that "Zamolodchikova" comes from Russian gymnast Elena Zamolodchikova's last name, however, "Yekaterina" is just "Catherine" in Russian, and "Petrovna" is a middle name you would be given if your father's name is Peter.
Her last name "Zamolodchikova" was dropped from the show, and she was mononymously referred to as "Katya". This follows a succession of past contestants such as Detox Icunt, Alaska Thunderfuck 5000, and Willam Belli.
RuPaul's Drag Race
Season 7
In Episode 1: "Born Naked", the challenge was to create a nude illusion look with a resort style tearaway for the runway. Katya wore a "Russian red, hippie realness" tearaway and infamously bent over on the runway and showed the judges her a**hole. Katya was declared safe from elimination.
In Episode 2: "Glamazonian Airways", after winning the mini-challenge, Trixie Mattel chose Katya to join her team. For the main challenge, they had to perform and lip-sync a mash-up of spoken word and song for a pre-flight safety video for Glamazonian Airways. After forgetting her words in the opening monologue of the routine, Katya fell into the bottom two, despite a commended runway look. She lip-synced against Sasha Belle, and subsequently sent her home.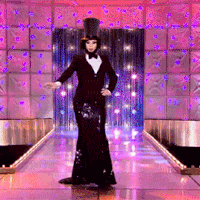 In Episode 3: "ShakesQueer", the queens had to act out versions of Shakespeare's literary classics. Katya was assigned to Kennedy Davenport's team and they had to perform "MacBitch", a spoof of Macbeth. Katya was given the role of Mary MacBitch. After a disastrous rehearsal, RuPaul told them that he had never seen a bigger car crash in all seven seasons of Drag Race, and that he expected a vast improvement in the final performance, but that wasn't the case. For the runway, the queens were asked to be "Bearded and Beautiful", walking the runway with beards. Katya delivered a humorous Abraham Lincoln inspired beard and outfit. She was declared safe from elimination.
In Episode 4: "Spoof! (There It Is)", for the main challenge, the queens were tasked with creating parody music videos for a song in RuPaul's discography. Despite being eager to work together, the team of Katya, Miss Fame, Pearl and Trixie struggled to come up with a concept for their spoof of "Dance with U", and after bickering amongst each other, decided to go with Trixie's idea of "Tan with U". This week's runway brief was "green". Despite rocky performances from the queens in "Tan with U", Katya was praised for holding the group together and being genuinely funny. She placed high that week.
In Episode 5: "The DESPY Awards", in a red carpet inspired mini-challenge, Katya wore an interpretation of Björk's infamous Swan dress. For this week's maxi challenge, the queens took part in the first edition of the DESPY Awards. As the winners of the mini challenge, Katya and Mrs. Kasha Davis did not present an award, and instead acted as co-hosts for the ceremony. Katya was nominated for "Meatiest Tuck" which she won, and also had to give an acceptance speech for. She was praised for her witty performance as a host, but criticized for her outfit. She was declared safe.
In Episode 6: "Ru Hollywood Stories", for the main challenge the queens had to act out RuPaul's, Michelle Visage's, and Merle Ginsberg's, version of events in "Whatever happened to Merle Ginsberg?". Katya played Merle in Merle Ginsberg's recollection, which was universally praised by the judges. Katya went on to win this week's challenge; her first challenge win in the season.
In Episode 7: "Snatch Game", Katya portrayed financial advisor Suze Orman, which was highly praised by the judges. For the runway look, the queens had to wear "Leather & Lace". Her runway look was also highly praised, and overall Katya placed high this week.
In Episode 8: "Conjoined Queens", all of the past eliminated queens from the season came back and were paired up with the competing queens. Together they had to create a conjoined twin look on the runway, and whichever team won, the eliminated queen could enter back into the race. Katya was assigned with Mrs. Kasha Davis and served a drunken sisters style look on the runway. It was highly praised by the judges, and Katya was placed high that week.
In Episode 9: "Divine Inspiration", for the main challenge the queens had to act and perform in three Divine inspired comedy spoof sketches. Katya was paired with Kennedy Davenport, and together they acted in "Cha Cha Heels" a parody of Female Trouble. Their performance was commended by the judges and together they placed high this week.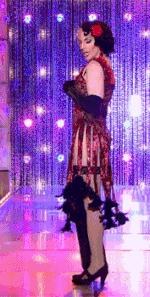 In Episode 10: "Prancing Queens", the queens had to pair-up and perform in a Dancing with Stars style live drag spectacular. Katya's dancing partner was Violet Chachki, and together they danced a mash-up of Tango and Vogue. Their performance was praised for being in sync, stylish and glamorous. For the runway, the queens had to give a dance half and half look based on their dance types, one side male and the other female. Katya and Violet both won this week's challenge, giving Katya her second win in the competition.
In Episode 11: "Hello, Kitty Girls!" for the main challenge, the queens had to create a Hello Kitty inspired runway look, and create a new character to be Hello Kitty's new BFF. Both of Katya's runway looks garnered a lukewarm response from the judges, and she found herself in the bottom two against Kennedy Davenport. After a memorable lip-sync, RuPaul decided that Kennedy should be saved, and Katya was sent home.
Farewell Message
"Девочки! Я вас люблю! (Girls! I love you!) If you need me, you know where to find me. (The dumpster out back) XOXO Katya AKA The Brooke Hogan of drag AKA Diarrhea Perlman ♥♥♥"
Trivia
She is known to have a tendency to rapidly move her hands around while talking in confessionals.

On Season 7, she revealed that she had a previous history of alcohol and drug addiction.
She has mentioned that Katya is bisexual; however, Brian is gay.
She's 5'10.
Her favorite meme is "on my way to steal your man."
She has stated that she has never been in a long term relationship.
She originally auditioned for Season 3.
After her entrance in Season 7, some of the other queens actually thought she was Russian. She has mentioned that her audience occasionally mistake her for being Russian as well.
Katya and fellow Season 7 Queen Trixie Mattel both star in a web series called "UNHhhh" on WOWPresents' official YouTube channel, where they talk about anything they want, as quoted by them.
In All Stars 2, she was the only queen in the Top 5 to not be from the fifth season.

Katya is the only Miss Congeniality to compete on All Stars 2.
Katya's entrance words for All Stars 2 are the same words as Chad Michaels in All Stars 1, except Katya's are in Russian.
Quotes
"Devochki!" [engl. Girls!]
"I'm just your average run-of-the-mill Russian bisexual transvestite hooker."
"Katya is at the intersection of glamour and comedy. You can find her right on the corner, selling her ass."
"I don't know what Miss Crab Lady is doing in that lipsync but the bearded hoe is turning it out!"
"I am sweating like a hooker in church."
"Ginger's transformation is pretty remarkable. She goes from Kathy Bates to Bob Hoskins."
"I'm not a dancer, per se, but I can move my body in a compelling way – it usually compels people to leave the room."
"When in doubt, show them your asshole."
"I'm not actually that young, I'm just ignorant."
"I believe it was the great American painter Bob Ross who said, "The key to a swollen vagina is... courage.'"
"The Snatch Game is when we all dress up in latex frog costumes and go through a fiery obstacle course."
"I'm trying to just serve sexy and confident whore slutty cougar on the prowl. 3rd rate Faith Hill impersonator. 80% sexy, 20% disgusting."
"In Russia, death and sex are the same. Cold, wet, dark and painful."
"In Russia, money, power and wealth are the keys to experiencing the full depth and breath of lesbianism."
"In America, talk is cheap... in Colombia talk is... Spanish."
"Without dirty thoughts, there are only dirty dishes."
"I don't know! I'm not a scientist!"
"I don't know anything about science other than that it's really good for you."
"I am my own worst enemy."
"Why try new things, when you can try nothing?"
"I don't take anything personally, except most things."
"I do not jump for joy. I frolic in doubt."
"I touch myself so you don't have to."
"It's going to be a disaster."
"When do I get to blow them? - I can't say that?"
"I would trample my dying grandmother to win this fucker."
"You know you want this crocheted pussy."
"I definitely needed to make a statement, so I try to pound my vagina into that stage so hard the building shakes."
"You know I'm not going to fall asleep until you make out with me." (to Trixie Mattel)
''Woo! I'm a mountain biking vampire witch from the future!''
''Fuck my pussy with a rake, mom.''
"Party"
Ad blocker interference detected!
Wikia is a free-to-use site that makes money from advertising. We have a modified experience for viewers using ad blockers

Wikia is not accessible if you've made further modifications. Remove the custom ad blocker rule(s) and the page will load as expected.