Derrick Barry is a Britney Spears impersonator, who is also a contestant in Season 8 of RuPaul's Drag Race. She is remembered for being the 100th queen to enter the Werk Room. In Episode 8 of RuPaul's Drag Race, she was eliminated and landed in 5th place.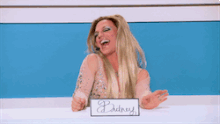 RuPaul's Drag Race
| | |
| --- | --- |
| Season Competed: | Season 8 |
| Ranking: | 5th |
| Mini-Challenges Won: | 1 (Ep. 7) |
| Times as Team Captain: | 0 |
| Main Challenges Won: | 1 (Ep. 7) |
| Times in Bottom Two: | 2 (Ep. 6, Ep. 8) |
| Episode Eliminated: | Ep. 8 |
Entrance
"It's Derrick, bitch!"
Trivia
Derrick had also competed on the third season of America's Got Talent. He made it to the quarter-finals, but didn't get enough votes to go on to the next round.
She is the 100th queen to enter in the Werk Room.
Derrick Barry is in a triad relationship with Mackenzie Claude who is also known as Nebraska Thunderfuck, and Nick San Pedro.
Derrick first met Britney on The Tonight Show, November 17, 2003.
She has appeared on Toddlers and Tiaras as a judge of the Mr. and Ms. Nevada pageant along with season 4's Chad Michaels and season 5's Coco Montrese.
She has performed live with Madonna.
Quotes
"Who else has been carb free for two weeks?"
"Place your bets on me if you like to gamble!"
"If I want to do ratchet drag next week, can you give me any tips?" to Bob The Drag Queen
"This is the most emotional rollercoaster I've ever been on."
"I have a hem everywhere"
"May I please leave the stage now?"
''I would be very popular in prison"
Ad blocker interference detected!
Wikia is a free-to-use site that makes money from advertising. We have a modified experience for viewers using ad blockers

Wikia is not accessible if you've made further modifications. Remove the custom ad blocker rule(s) and the page will load as expected.